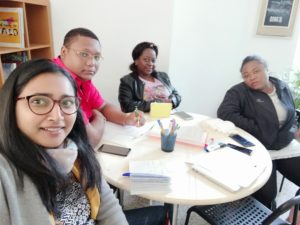 Arad, Romania 17thMarch to 15thApril
Being in Romania for one month was a great discovery. Visiting another country and its culture.
We would like to thank the manager for his kindness and effort to sort out the logistic, the accommodation for the entire month stay in Romania.
The first week kick off, was a great experience as we were introduced and learned new technical tools padlets and mentimeter, which had enriched our technical knowledge. These tools will be shared within our organisation, NGO's and all youths.
The visit at the library on the 21st Marchwas interesting and fun as we get the opportunity to assist with volunteer and participate in their activity with the kids.
The second week 25thMarch was the arrival of the youth from Reunion and Romania for their exchange visit. Since that both groups known each other before from their previous exchange visit in Reunion made the program run smooth.
Our role was more like to assist as volunteers, and basically as an observer. The activity around the city was a great challenge for us and we gained new techniques of making the youth being more open and adventurous. We have the chance to visit the Castle together with the youth. The intercultural activities went into another dimension. Each country had managed to represent their country, their history and culture.
The conference and launching of the Youth Move held on the 28thMarch, was also another opportunity for us. We have the chance to meet with other partners and interact together.
We visited the university and made a presentation on our NGO and organization. We also gather valuable information related to their university and programs.
The most exciting visits were in Timisoara. We visited at first the Europe Direct centre whereby we gathered information on the EU program for partners interested in volunteering and youth Developments. We also visited the youth Centre. Basically that was the cherry on top of the cake for us as it's in our best interest to learn new ways and strategies of dealing and organising youth activities. We were happy and really impressed by the infrastructure and facilities this centre has to offer their youth. We had the privilege to visit the centre and assist a presentation from the youth themselves.
In general the program was a success and we have gain a lot of valuable experience from different programs and visits. I would like to thank the organizers and everyone whom has in a way or another helped to realize such projects and assured them that knowledge acquired will be shared through programs and activities in our country.
Davies Finesse and Marie Anne Soubana
(Seychelles National Youth Council and Seychellois Association for Youth and Animation)